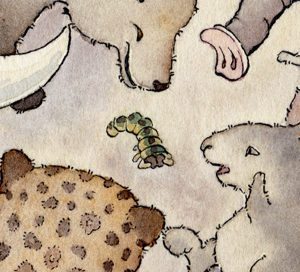 Who is in the hare's cave? A big voice! For early readers. (from Africa)

Share a Bedtime Story with Your Little Ones~ Leave a Lasting Impression with Positive Morals through Children's Bedtime Stories
Sharing a bedtime story is storytelling in its most purest form. It's an opportunity to not just share a simple story to be forgotten, but passing on a lifetime of lessons from those who came before us, with classic fairy tales or folktales, in a nightly ritual of learning. While a bedtime story might be seen as something to rush through in order to get to the quickest inevitable conclusion, a much needed rest for a busy child, it can be the most magical moment of the day. Taking that child to a world of discovery which will surely leave a lasting impression. 
Below you will find some of our favorites! Short stories that are perfect as a bedtime stories or anytime stories. With Themes of Cooperation, Friendship, Kindness, and a little magic, these bedtime stories are sure to please your little one as they drift off into pleasant dreams. What better way to teach morals then through a magical story which entwines the message within the confines of the tale.
Leave a lasting impression and share a special moment with your children with a storytelling experience they will treasure forever. We hope you enjoy our Free Short Bedtime Stories and if you do, consider joining our community and supporting our mission to ensure these stories live on forever.