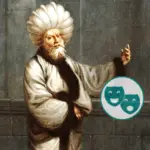 The Dustman & the Cadi Reader's Theater Script for Kids
CHARACTERS
• NARRATOR
• DUSTMAN
• FEMALE VILLAGER #1
• FEMALE VILLAGER #2
• FEMALE VILLAGER #3
• MALE VILLAGER #1
• MALE VILLAGER #2
• MALE VILLAGER #3
• CADI
• EMIN
• ZEKI
• SERVANT #1 (no speaking lines)
• SERVANT #2 (no speaking lines)
• SCARF PEDDLAR (no speaking lines)
• VEGETABLE PEDDLAR (no speaking lines)
• LADI
• LADI'S SERVANT
Scene 1 – Dustman's home
[Stage Set: Turkey, many years ago. The stage is divided into three sections. The first section is DUSTMAN's home. It is a small sparse room with a rug on the floor, a small table, a chair on top of the rug, and a large cooking pot on the table. In the middle of the stage is a village market scene- more on that later. The third section is CADI's house.  A "Cadi" was a judge,]
[NARRATOR enters.]
NARRATOR:
Hello, everyone. Welcome to "The Dustman and the Cadi," from Turkey.  So you're wondering – what's a "dustman"? It's what years ago they used to call a trash man – probably because of the dust. And a "cadi" (pronounce: KAH-dee) – that meant a judge. So the title, "Dustman and the Cadi"  means a trash man and a judge.  This story is brought to you by Stories to Grow by.
[NARRATOR steps forward.]
NARRATOR:
Long ago in a city called Stamboul – that same city is now called Istanbul – there once lived a hard-working dustman. A trashman, remember?
[DUSTMAN enters. He wears shabby clothes and carries a small bag of coins. He sets the bag on the table.]
DUSTMAN:
I have good news and I have bad news.
NARRATOR:
His good news is that over many years he has saved 500 silver coins.
DUSTMAN:
500 silver coins! Finally there's enough to take home to my wife and family, and provide for them for life.
NARRATOR:
He had been working hard for years. And as the Turkish saying goes, "There is no love like a mother's, nor a place like your homeland." Now, the bad news.
DUSTMAN:
My savings could get stolen before I earn enough to travel back home. I must find a place to keep my coins safe till then!
[DUSTMAN looks around the room, then looks under the rug.] 
DUSTMAN:
I cannot keep it there. That is the first place a thief would look! (looks in the cooking pot) I cannot keep it there. Surely that is the second place a thief would look! (to the audience) I know what I'll do! I'll separate it into different piles and put a small pile in each place!

[DUSTMAN sits at the table and opens then bag of coins.  He rubs his hands together, as if ready to sort the coins into piles.  Then he stops and frowns.]

DUSTMAN:
But what am I thinking? If a thief finds one pile, he'll stop at nothing to find the rest! (stands up)  I have no choice but to keep my silver coins on me at all times until I figure out a safe place to put them. (puts the bag of coins under his jacket and begins to walk) Though they do jangle.
[DUSTMAN picks up his broom and exits the scene and walks out of his "house" to the middle of the stage, a village market scene.]
Scene 2 – Village market
[Stage set: An outdoor, middle-eastern market scene is at the center of the stage. Two tables are set up with goods – one has scarves and the other has vegetables. (See Performance Notes on how to set up the tables.)]
[SCARF PEDDLER and VEGETABLE PEDDLER enter and stand behind their tables. FEMALE VILLAGER, #1, FEMALE VILLAGER #2, and FEMALE VILLAGER #3 enter and surround the vegetable table. They hold baskets and pantomime making purchases.]
[DUSTMAN enters.]
DUSTMAN:
I can't look obvious that I'm holding all this (whispers to audience) you-know-what. (returns to regular voice) I just have to be really, REALLY careful as I go about my work.
[DUSTMAN sweeps around the FEMALE VILLAGERS, listening closely.]
FEMALE VILLAGER #1:
So I couldn't believe it.
FEMALE VILLAGER #2:
I know what you mean. He almost got away with it!
FEMALE VILLAGER #1:
Sometimes I think the Cadi (pronounce: KAY-dee) is the only honest man in the village.
FEMALE VILLAGER #3:
Oh, I KNOW the Cadi is the only honest man in the village.
FEMALE VILLAGER #3:
(points to table of scarves) Will you look at those silk scarves? They're gorgeous!
FEMALE VILLAGER #1:
Totally you! Let's take a look.
FEMALE VILLAGE #2:
Love the edgings. Fringes are the new beads.
[FEMALE VILLAGERS move to the scarf table. DUSTMAN stops sweeping and considers their remarks. MALE VILLAGERS enter, talking to each other.]
MALE VILLAGER #1:
The thief insisted my goats were his, so I decided to have the matter settled by the Cadi.
MALE VILLAGER #2:
(nods) Good move. What did he do?
MALE VILLAGER #1:
He asked the thief to call the goats as if it were feeding time. The joker called for them twice, but not a single goat turned his way. Then the Cadi asked me to call them. I whistled once, like this (it's good if the actor can whistle) and they came running. My goats know MY whistle.
MALE VILLAGER #3:
(slaps his knee) Ha, ha! We're lucky to have such a judge in our village.
[MALE VILLAGERS chuckle together as they exit. DUSTMAN stops sweeping again and looks at the audience.]
DUSTMAN:
That's it! The Cadi is the most trusted man in the city. HE'll know what to do with my coins!
[All actors other than DUSTMAN exit.]
SUPPORT OUR MISSION & JOIN OUR COMMUNITY WITH A YEARLY MEMBERSHIP TO GET ACCESS TO THIS & OVER 40 FUN TO PERFORM READER'S THEATER SCRIPTS, ALL  OF OUR AWARD-WINNING STORIES (OVER 100!), 12 STORY SETS INCLUDING PERFORMANCE NOTES & POSTER, PLUS OUR TEACHER RESOURCE GUIDES (OVER 30 PAGES EACH!), AS WELL AS OUR JUST FOR TEACHERS RESOURCES, AUDIO STORIES AND OUR FORUM!  OUR STORIES & SCRIPTS FROM ALL OVER THE WORLD ARE KID-TESTED AND ALL CONTAIN POSITIVE MESSAGES!