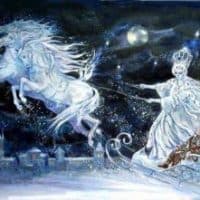 March Theme Focus: Girls of Courage 
Stories to Grow by is proud to present our March Theme featuring many of our new "Early Reader" Classic Short Stories in English. Our March focus is on the theme of "Girls of Courage". What an important message in your classroom, specifically in this time of our history. Multicultural Stories such as Mulan, The Girl & the Chenoo, Janet & Thomalyn, and the ever popular "Snow Queen" which the Disney movie "Frozen" is based on. We hope you will find these stories inspiring to read at home as Bedtime Stories or in the classroom. Disney's "Mulan" is one of my sons favorite Disney movies so be assured that both girls and boys will come away from these stories having learned valuable moral lessons. Happy Storytelling! 
Love this Story or Script? Share It!