Teaching the Theme of Gratitude with Stories to Grow by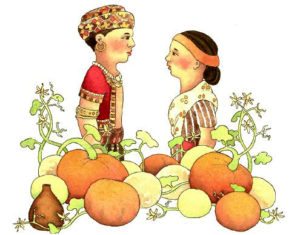 Three Stories with a Theme of Gratitude:
For Classroom Use at Thanksgiving and Year-Round 
Thanksgiving is almost here! How will you be teaching the theme of Gratitude in your classroom this year?
We look for thought-provoking stories that encompass the virtues we hope our students showcase, not only around the holidays, but all throughout the year. One free resource is  Stories to Grow by, an award-winning selection of kid-tested multicultural stories. The three tales featured below provide shining examples of Thanksgiving themes such as Gratitude, Friendship, and Kindness.  Dramatic versions of the first two stories are also freely available as Reader's Theater and can offer entertaining read-aloud opportunities.  
Androcles and the Lion:  Androcles is an escaped slave who runs away from his cruel Roman master.  Wandering in the woods, he meets a lion in distress. This Fable comes from the collection of "Aesop's Fables."  Aesop is credited as author of hundreds of fables, many of which are still taught as morality lessons and used as subjects for various entertainments, especially for children's plays and cartoons.  Help yourself to Stories to Grow by's Reader's Theater script for "Androcles and the Lion."
Baba Yaga:  Natasha is sent deep into the forest by her stepmother to face the witch Baba Yaga.  Baba Yaga has the frightening power to embody her hut, such that the hut stands on hen's legs and hops about to chase its child-victims. In this classic Russian fairytale, Natasha befriends several enchanted creatures trapped by Baba Yaga, and they in turn help Natasha to escape. 
The Queen and the Mouse:  A Queen is captured and imprisoned, along with her infant daughter, in the tallest room of a tower.  She has but one friend – a charming dancing mouse. This French fairytale drives to a moment of reckoning when a magical old woman offers the Queen a chance to free her baby daughter – but only if the Queen hands over the mouse.
The content of the three tales can also prompt skill-building for "Making Predictions" as well as "Cause and Effect." Additional stories and Reader's Theater scripts, as well as teaching materials and Common Core alignments, are available at storiestogrowby.org.