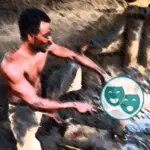 The Blacksmith's Dilemma-Kids Reader's Theater Script Free ~Sample 
[toggle title="CHARACTERS"]
NARRATOR
WAKALUGA
TIAN
HANIF
RAFIKI
GUARD #1
GUARD #2
KING
SERVANT #1
SERVANT #2
WAZIMU
[/toggle]
Scene 1 – Wakaluga's forge
[Stage set: The stage is divided in thirds for three different scenes. In the first area, for both Scene 1 and Scene 3, is WAKALUGA's forge - a forge is where a blacksmith heats iron to shape tools and decorative metals. The second area for Scene 2, in the middle, is a palace. And the third area for Scene 4, shows a bushland.]
[At WAKALUGA's forge, WAKALUGA stands beside a blacksmith's anvil. (See Performance Notes on how to create an anvil.) WAKALUGA is working hard and focuses on hitting a long piece of metal with a hammer.]
[NARRATOR enters.]
NARRATOR:
Hello, everyone. This is "The Blacksmith's Dilemma," a story from Uganda. It is brought to you by Stories to Grow by.
[NARRATOR steps forward.]
NARRATOR:
Ki kati (pronounce: chi-KAH-tee), my friends! That means "welcome." This hard-working man, Wakaluga (pronounce: wack-a-LOO-gah) (gestures to Wakaluga) is flattening a big piece of iron  He is the greatest and most talented blacksmith in the land. Only the finest metal objects come from this forge - Wakaluga's. In fact, just last week, he made ALL the horseshoes for ALL the King's horses. Let's meet him. (turns to Wakaluga) Wakaluga?
WAKALUGA:
(looks up) Yes?
NARRATOR:
Is it true you made all the King's horseshoes in just one day?
WAKALUGA:
Indeed. And I have the blisters to prove it!
[WAKALUGA turns his or her hands upward to show NARRATOR.]
WAKALUGA:
Uh, is that all?  Because I should go back to work now.
NARRATOR:
Of course. (to audience) A hard-working fellow.
[RAFIKI, HANIF and TIAN enter. They approach WAKALUGA.]
[NARRATOR exits.]
TIAN:
Wakaluga! What marvel of metalsmithing are you working on now?
WAKALUGA:
(looks up) Ah, hello my friends! I'm making a new hammer. And not just any old hammer. It's a hammer that is so perfectly proportioned, it will seem to strike a nail all by itself.
TIAN:
If anyone can pull that off, you can, Wakaluga.
WAKALUGA:
(holds up the hammer) And it also will be beautiful to behold.
HANIF:
(peers at the hammer) Look at that detail!
RAFIKI:
Wakaluga, have you even left your forge in the last few days? Have you heard the news?
WAKALUGA:
No, what news?
TIAN:
It's about you! The word is the King is seeking your services. Again!
WAKALUGA:
Really? I wonder what kind of commission he has in mind now?
RAFIKI:
I hear it's something REALLY special this time. Who knows?  Maybe a royal staff.
HANIF:
Or throne! Wouldn't that be something?
[Pause.]
HANIF:
Whatever it is, hopefully you'll be able to please the King. As you always have, of course.
TIAN:
Our ruler is fine when he's pleased. But if he is not … (motions with a hand across his neck)
HANIF:
You'll please him again, no doubt! If anyone will, you will.  No need to worry, Wakaluga.
WAKALUGA:
I'm not worried. Besides, it'll probably take his messengers at least a week to get here.  (shrugs) So I don't need to think about it for awhile.
RAFIKI:
(looks off-stage) Think again, Wakaluga.  Look – here they come!
[GUARD #1 and GUARD #2 enter.]
WAKALUGA:
(runs hands through hair) Do I look all right?
GUARD #1:
Wakaluga?
WAKALUGA:
That is I.
GUARD #1:
You are hereby summoned by the King.
GUARD #2:
You must come now.
WAKALUGA:
Very well. (to Rafiki, Tian and Hanif) Friends! Would you watch over my forge for me?
HANIF:
Of course.
RAFIKI:
Good luck!
[GUARD #1 and GUARD #2 exit, with WAKALUGA following.]
TIAN:
(picking up the hammer and holding it at a distance) So what does this thing do?
Scene 2 - Palace
[In a large room, KING sits on a large chair that looks like it's carved from a tree trunk, and is fanned by weary SERVANT.  (See Performance Notes for how to simulate the tree trunk stool.)  WAKALUGA, GUARD #1 and GUARD #2 enter. GUARDS immediately move to KING's side.]
KING:
Ah, Wakaluga! Please, take a seat.
[WAKALUGA looks around for a chair, before finally shrugging and sitting cross-legged on the floor.]
WAKALUGA:
What do you request of me, O King?
KING:
You are the finest blacksmith in the land. This you have proven over and over.
WAKALUGA:
You flatter me, Your Majesty.
KING:
Just stating the facts. 
WAKALUGA:
Thank you, Your Majesty. You are most kind.
KING:
Because of your skill, I have summoned you again. This time, I have a very special project in mind.
WAKALUGA:
What would you like, Sire?  !  I'm sure I can make it, my King.
KING:
No doubt.
[KING claps his hands. SERVANT #1 and SERVANT #2 appear. They walk in, carrying several large pieces of iron as if the iron is very heavy, then set them down beside the throne. (See Performance Notes on how to simulate the iron.)]
KING:
I need you to fashion what I have in mind using these pieces of iron.
WAKALUGA:
And what would that be? Perhaps a statue?
KING:
No, nothing that ordinary.
WAKALUGA:
Ah! A likeness of your royal self?
KING:
Wakaluga, if I wanted a likeness of my royal self, any number of blacksmiths would be up to the task.
[A pause for two seconds. WAKALUGA is confused.]
KING:
You are to take this metal and change it into a MAN. Not a statue of a man, mind you. But a living, breathing, human man.
WAKALUGA:
But… my King, I'm afraid I must have misheard you. I could have sworn you asked me to make a real living man, out of this iron. (gestures to the pieces of iron)
KING:
You heard right! A man that is made from this metal, but able to walk and talk and think, and who has blood running in its veins.
WAKALUGA:
I… uh… (to audience) What can I say? I cannot fail the King. He will kill me for sure! (to King) Ah… of course! I'll be able to forge you a… a MAN… in no time at all! (to audience) What will I do?
KING:
Splendid! I knew I chose the right man for the job! The festival is in three weeks and my new metal man must be ready by then. I'll have the iron delivered to your forge first thing in the morning. Surely this gives you enough time.
WAKALUGA:
(gulps) Uh… yes?
KING:
That's what I thought. (waves hand to dismiss Wakaluga) Now get along, I have royal matters to attend to.
WAKALUGA:
Thank you, Your Majesty, you won't regret it. (to audience) But I already do!
[WAKALUGA bows to KING, and exits.]
SUPPORT OUR MISSION & JOIN OUR COMMUNITY WITH A YEARLY MEMBERSHIP TO GET ACCESS TO THIS & OVER 40 FUN TO PERFORM READER'S THEATER SCRIPTS, ALL  OF OUR AWARD-WINNING STORIES (OVER 100!), 12 STORY SETS INCLUDING PERFORMANCE NOTES & POSTER, PLUS OUR TEACHER RESOURCE GUIDES (OVER 30 PAGES EACH!), AS WELL AS OUR JUST FOR TEACHERS RESOURCES, AUDIO STORIES AND OUR FORUM!  OUR STORIES & SCRIPTS FROM ALL OVER THE WORLD ARE KID-TESTED AND ALL CONTAIN POSITIVE MESSAGES!