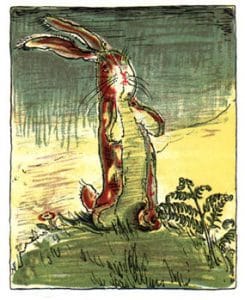 The Velveteen Rabbit Lesson Plan ~ February Theme of Love 
Velveteen Rabbit Lesson Plan Ideas for Valentine's Day: Creative Writing Tasks  
The Velveteen Rabbit is a beautiful, classic tale of a child's love for his stuffed animal. A motif, as also seen in the Disney movie "Toy Story", of the old toy thrown aside as new, shiny, toys with buttons and lights are received. The stuffed bunny, Velveteen Rabbit, and the Skin Horse wonder about their life as discarded toys.  But Skin Horse assures Velveteen Rabbit, "When soft toys are loved enough, we can become real." 
This story is a favorite childhood classic and our early reader version can be easily used in the classroom for grades K-3rd. It is perfect for Valentine's Day  with the theme of love which is easily accessible to all children. The love for their favorite stuffed toy.  In Kindergarten and 1st grade, the lesson could include am oral reading of the story and the children drawing a picture of their favorite stuffed animal coming to life. Meet standards by having students write a descriptive sentence "I love my ____ because_____." For 2nd and 3rd grade, it can be read for Independent Reading or Read Aloud and then include a writing task: Write a paragraph describing your own beloved stuffed animal. Extend the learning by having students be creative and write a short story about how their stuffed animal became real. Or a persuasive story about why their stuffed animal deserves to become real. Happy Valentine's Day and Happy Storytelling! 
Love this Story or Script? Share It!